Burn All GIFs Graphics
Up to Burn All GIFs Home page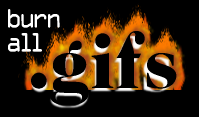 burnallgifs.png


burnallgifs_62x36.png


burngifs_60_468.png
The above three images created by Amy Abascal: webmistress@iconoclast.net They "may be used freely by those wishing to show support for www.burnallgifs.org." Thank you, Amy.
---


burngif_button.png


burn2_button.png
Above two images created by Gilbert C Healton
---


hackles_nogif.png
Above image created by Jen Brodzik of Hackles.
---


burnallgifs_arabic.png
Above image created by Asser Hassanain from Amy Abascal's original.
---


favreau_button.png
Above image created by Martin Favreau
---


no_gifs_pl.png


png_japan.png


uk_flag.png


usa_flag.png